Moi. Straight-up diva, yo. (Got the hat at Dillard's!)
1) We already love them for occasions.
The Kentucky Derby. Easter. Fancy-dress parties. People freakin' love hats. People are just so far in the closet about their love of hats, they can probably see Narnia.
MY GOD YES.
Isabella, the ultimate hat-wearing diva of our time.
2) Why should the trilby wearing douchebros have all the fun?
Gentlemen, I submit to you a small collection of acceptable, sexy, non-douchey (unless the wearer is a douche) manly fedora-ish hats:
Brixton "Ranch" Fedora
Tommy Bahama braided paper fedora
Tommy Bahama Golf palm fiber fedora
Nocona Indy
3) They make the "what am I going to do with my hair?" question moot.
Because who's going to be looking at your hair when you're wearing THIS delightful confection!
4)Nobody rocks a hat like a elderly Black gentleman, but that doesn't mean we shouldn't try to emulate.
I rest my case:
Morgan, you sexy devil.
5) The sun ages you! Keep it off with style!
6) Browsing and buying a unique hat is a great way to support small businesses.
Here are just a few of the amazing purveyors on Etsy:
hatWRKS
MiriamLeala
humperdinckhats
HorriblyEclectic
Blackpin
CandysHats
emilliner
(Emily is local to Indianapolis, by the way! I've met her! She's glorious!)
TheWaughdrobe
MindYourBonce
Pookaqueen
Hat-timid? Try a
fascinator
, a
cloche
, or a simple
beanie/skullcap
. Perhaps even a
turban
. Or a
different turban
.
Gentlemen: to try a brimmed hat, but afraid of looking like a douche? Go for a true fedora or a derby, rather than a trilby (Their brims are bigger, and they're usually accented with a little feather.) Or try a porkpie,
top hat
, or
bowler
. Or the standard
driving hat
, which is also generally a winner.
Or why not a cowboy hat? Why NOT a cowboy hat?
Ready to let your full diva flag fly? Here are some options for that:
What up, goth bats! We're totally covered: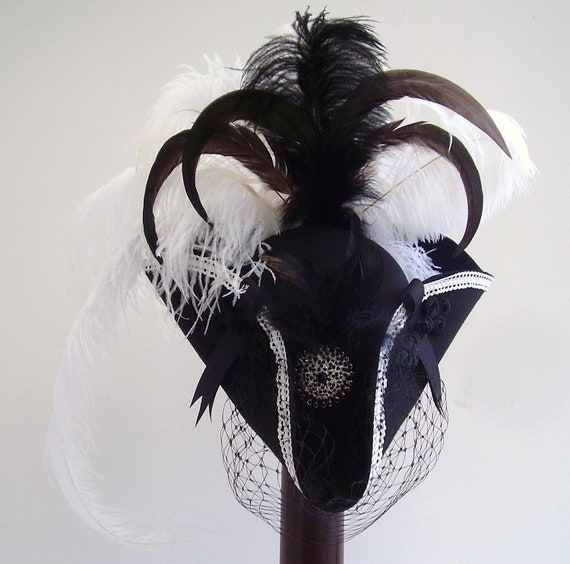 goth/steampunk tricorne hat via Blackpin
And still more deliciousness at
VictorianHatter.com
, if you crave it.
What's your favorite kind of hat? How often do you wear 'em?